Picture yourself on a white sand beach, surrounded by swaying palm trees, with clear blue waters and a chilled cocktail in your hand. Belize is home to some of the most stunning private islands, thanks to the famous Belize Barrier Reef hugging its shores. Whether you're in the mood for a luxurious island retreat, an adventurous getaway, or something in between, Muy'Ono Resorts has the perfect vacation for you. In this blog, we'll introduce you to the six must-visit private island resorts in Belize and the incredible experiences they offer.
1. Thatch Caye Resort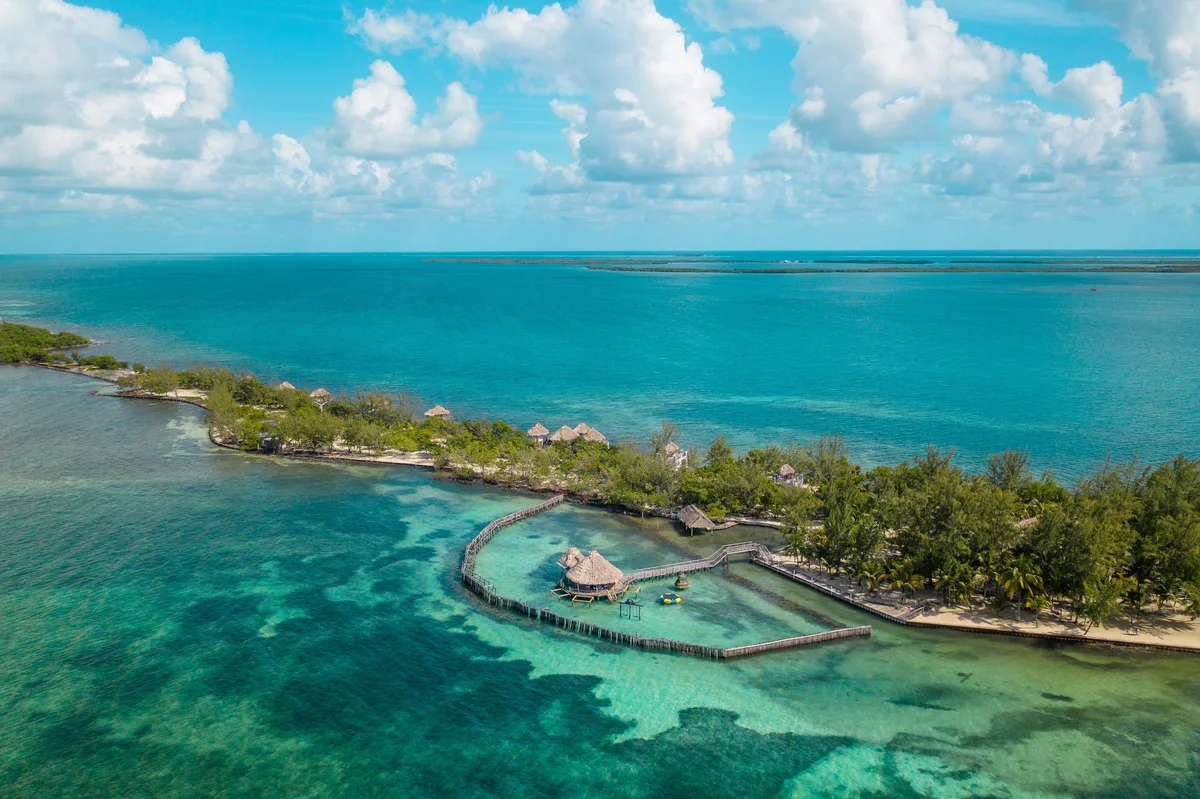 Resort Location: Offshore of Dangriga, Belize
Island Size: 12 Acres
Room Types: Overwater Bungalows & Oceanfront Cabanas 
Number of Rooms: 15 Rooms
Overnight Guest Count: 30 Guests
Vacation Type: Romantic Getaway
Imagine the ultimate romantic getaway in an overwater bungalow surrounded by the Caribbean Sea. Thatch Caye Resort is an all-inclusive private island where you can disconnect and recharge amidst stunning tropical views. WiFi is available only in common areas, encouraging you to embrace the tranquility of island life. The all-inclusive package is included with every stay, providing meals, alcoholic and non-alcoholic beverages, kayaks, paddleboards, and transportation to the island.
Thatch Caye Resort is a haven for SCUBA divers, with a 5-star PADI-certified dive shop on the island. Its location on the Belize Barrier Reef offers easy access to the world's best diving sites. Guests can enjoy catch-and-cook snorkeling excursions, tours to ancient Maya sites, and other popular Belize activities. It's the perfect retreat for couples celebrating a Belize honeymoon, divers looking for optimal water time, and island rentals for tropical destination weddings.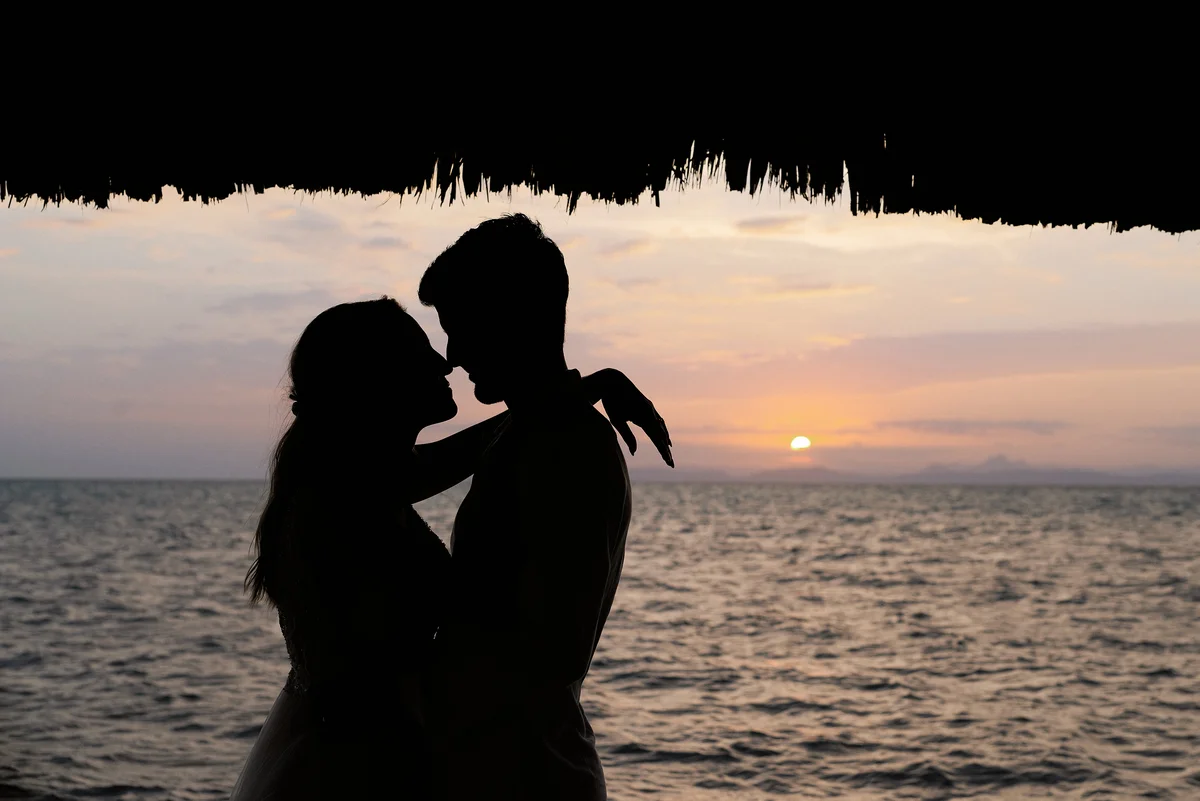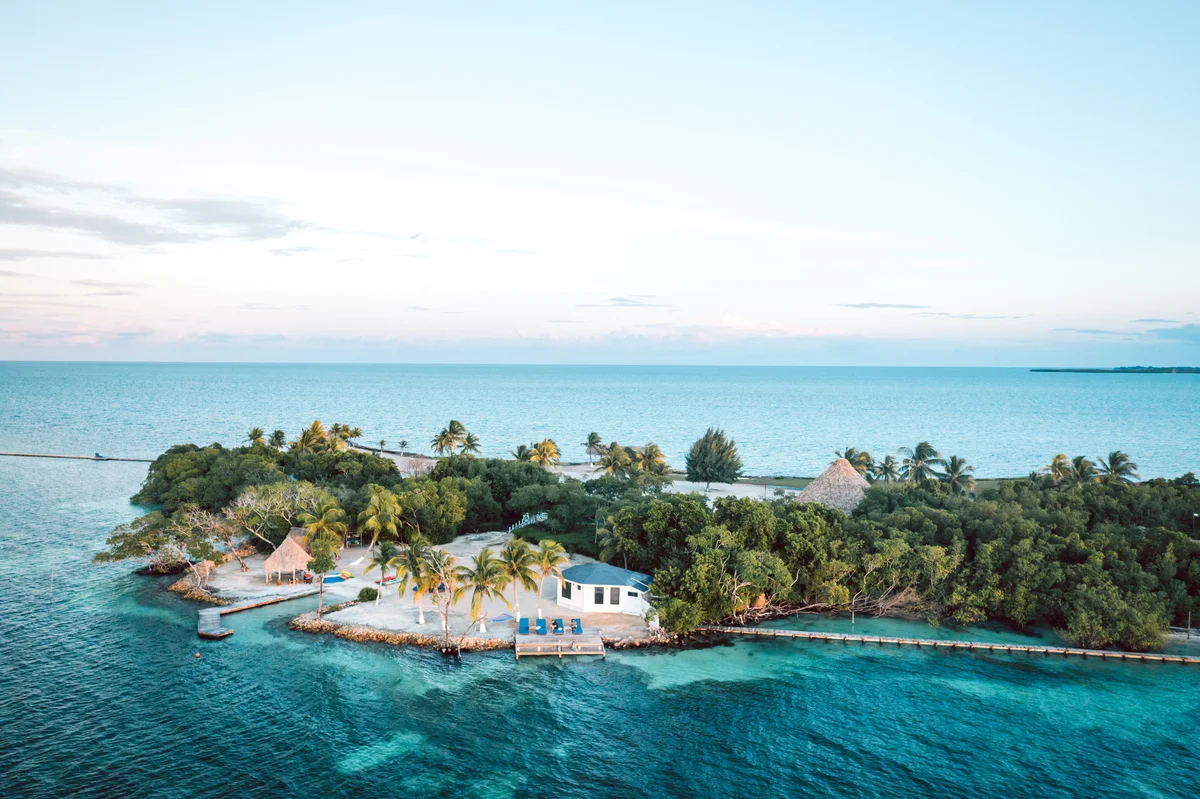 Resort Location: Offshore of Dangriga, Belize
Island Size: 7.5 Acres
Room Types: Luxury Villas & Bunkhouse
Number of Rooms: 5 Rooms and a Bunkroom
Overnight Guest Count: 10 Adults plus 6 Children
Vacation Type: Luxury Group Retreat
Royal Belize is the epitome of luxury, offering an exclusive getaway for one group at a time. If you seek the ultimate privacy where the only other guests will be the ones you invite, this 7.5-acre private island is the place for you. The resort accommodates 16 guests, including children, ensuring a personalized experience. Your worries will wash away as a personal chef, concierge, island manager, housekeeper, and licensed boat captain takes care of everything from the moment you step off the plane.
Three farm-to-table meals, snacks, and local alcoholic or nonalcoholic drinks keep you and your guests refreshed between Caribbean excursions. Snorkel or paddle around the island, embark on a guided tour from reef to jungle, or relax with a seaside massage. Royal Belize is ideal for family getaways, destination weddings, and bachelorette parties. The island has five luxury suites, including the Big House with three villas, two standalone villas, and a bunkhouse with six twin beds.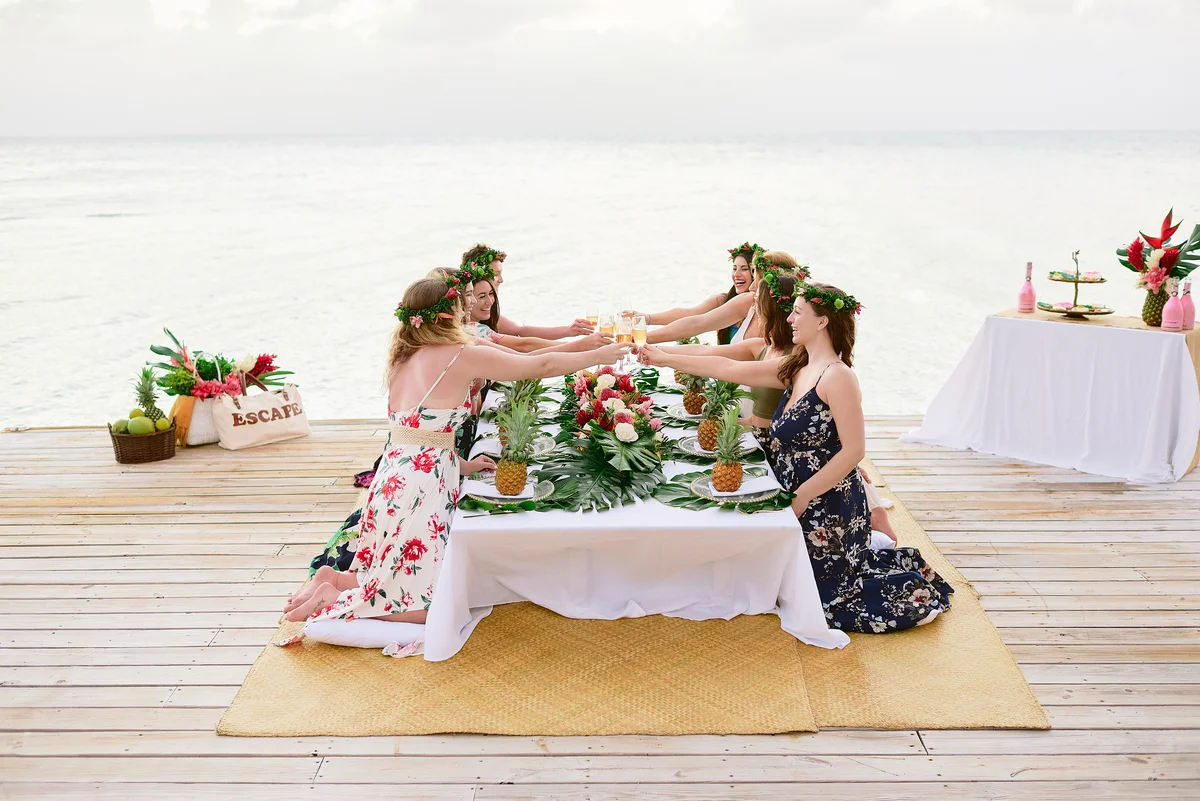 3. Slickrock Belize Adventures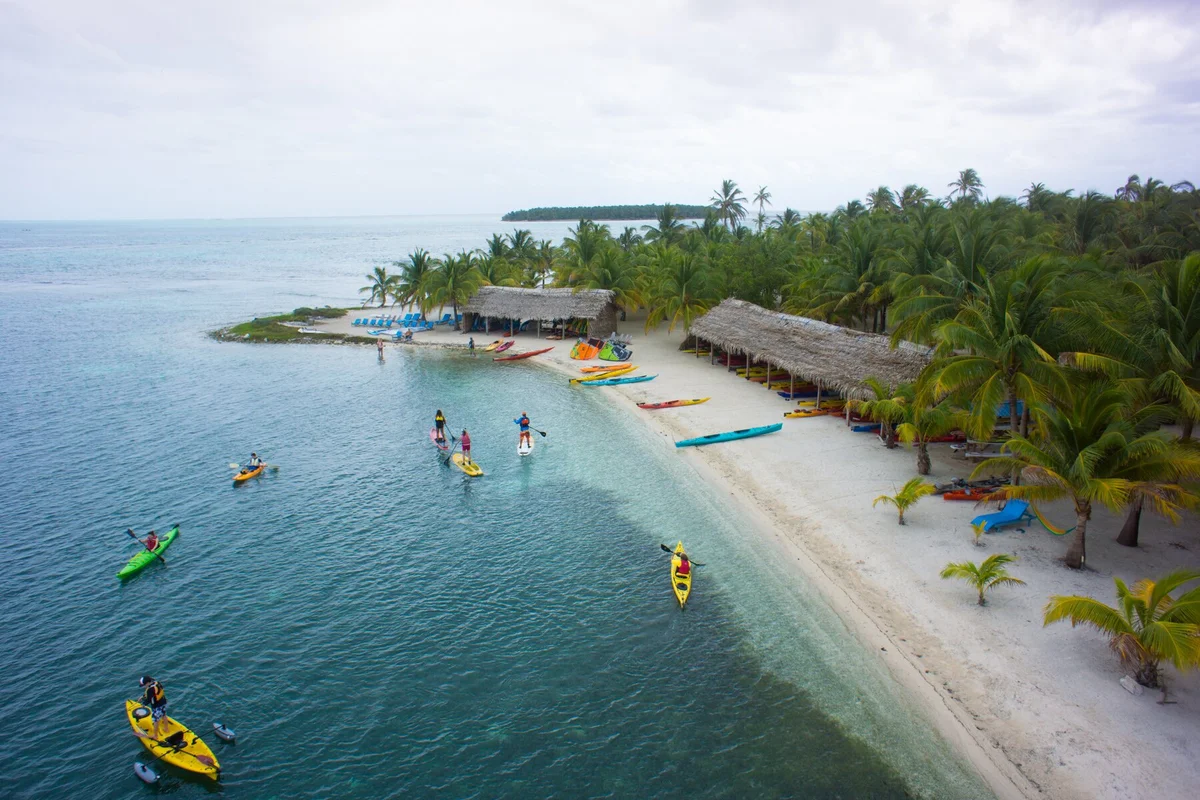 Resort Location: Glover's Reef Atoll, Belize
Island Size: 13.5 Acres
Room Types: Rustic Beachfront Cabanas 
Number of Rooms: 16 Rooms
Overnight Guest Count: 30 Guests
Vacation Type: Glamping Adventure 
Slickrock Belize Adventures is your unplug-and-play eco-lodge paradise within Glover's Reef Atoll. This sustainable island retreat offers rustic beachfront cabanas and a curated itinerary of activities that will immerse you in some of the best water explorations in Belize. The all-inclusive package allows you to step away from the digital world and into an 8-night adventure to experience the best Caribbean excursions. You'll trade typical resort amenities for an authentic island escape starting on Saturdays and ending the following Sunday. 
During the day, dive into water adventures like snorkeling, paddleboarding, windsurfing, kayaking, and even surfing at Belize's only safe surf break. There are also incredible SCUBA opportunities with the neighboring dive shop and fishing of every angler's dream. Enjoy communal meals, play volleyball, or relax in a hammock when you're not exploring. Slickrock isn't your typical island resort, with glamping accommodations that operate on 100% solar and wind power.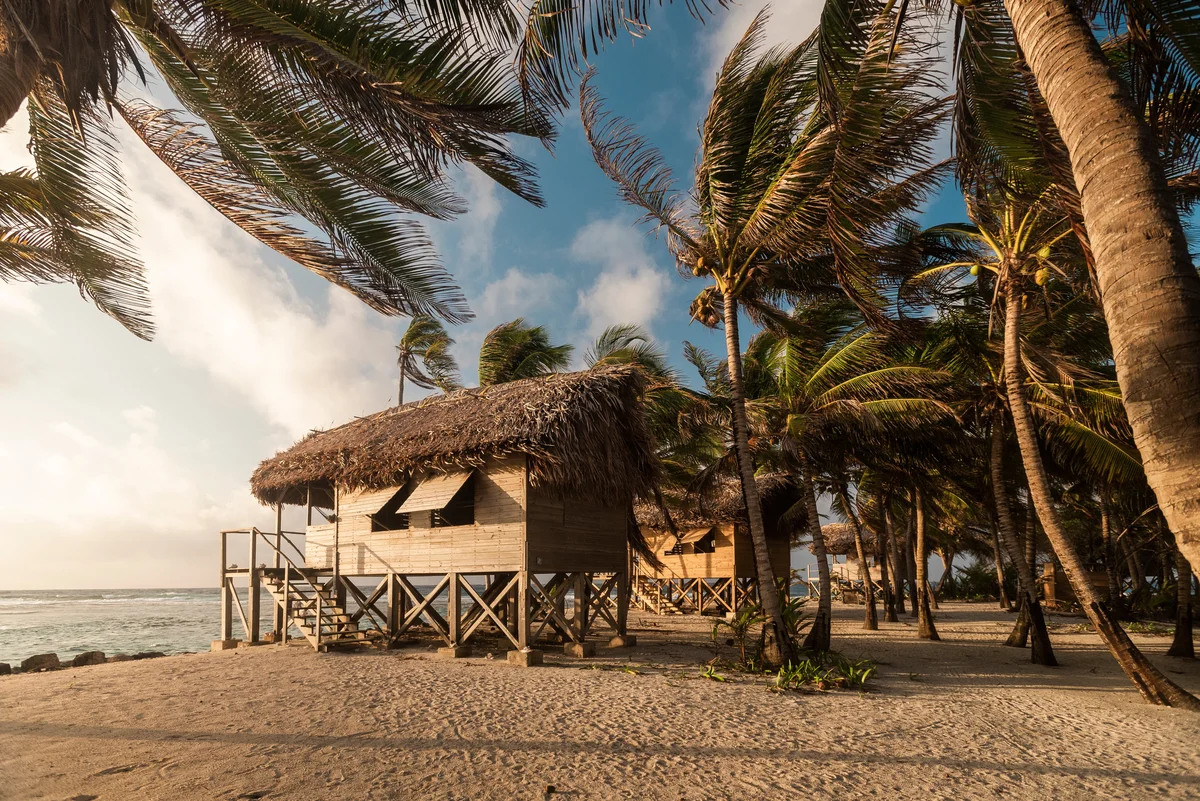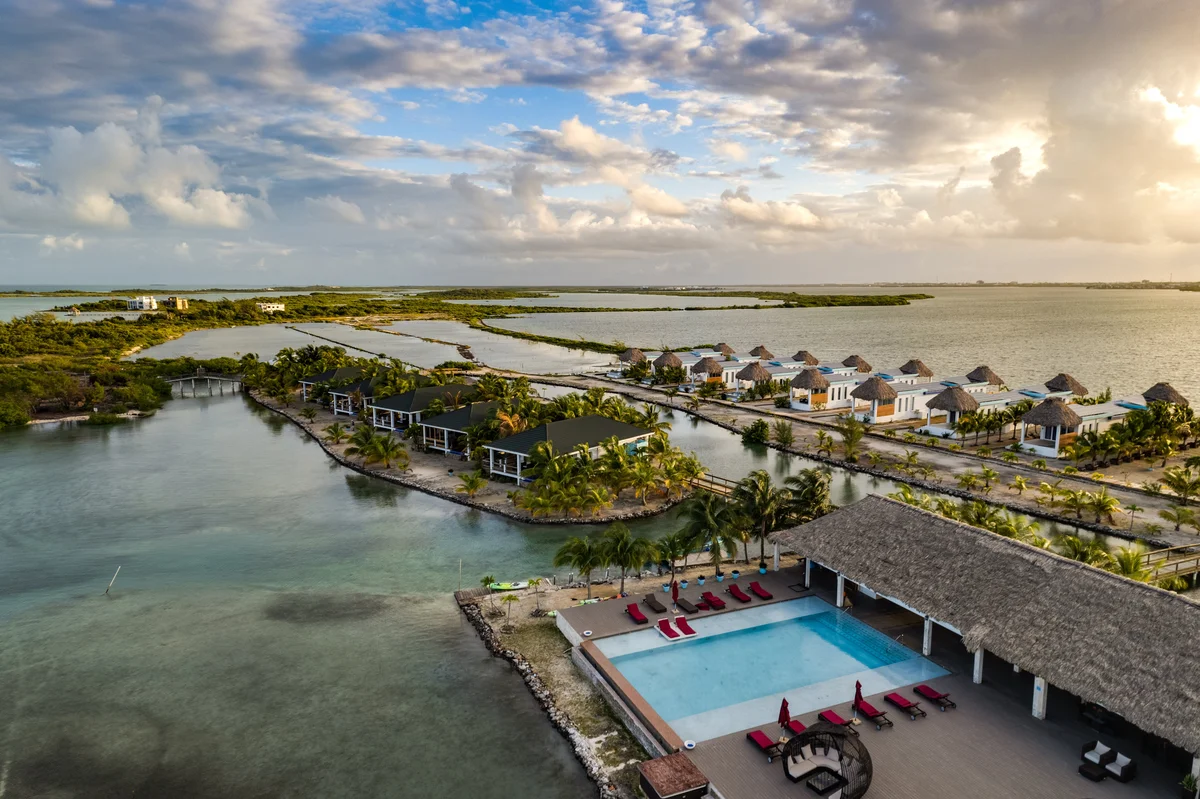 Resort Location: Offshore of San Pedro, Ambergris Caye
Room Types: Modern Oceanfront Villas & Two-Bedroom Suites
Number of Rooms: 21 Rooms
Overnight Guest Count: 42 Guests
Vacation Type: Access to Local Nightlife
Just a 5-minute boat ride from Ambergris Caye, Turtle Island Resort offers a perfect blend of privacy and access to the vibrant town of San Pedro. This private island resort boasts modern villas and two-bedroom suites with personal plunge pools and stunning Caribbean views. While the island is a haven for relaxation, complete with an infinity pool, all-inclusive dining options, and rejuvenating spa services, it also grants you easy access to the mainland via complimentary boat shuttles. 
Turtle Island Resort offers expert-guided excursions to Belize's most sought-after activities, including snorkeling, ancient Maya sites, and world-class fly fishing experiences. San Pedro is renowned as one of Belize's premier vacation destinations, where lively events, delectable local cuisine, and endless adventures await your exploration. Ideal for couples, families, and anyone ready to experience San Pedro, Turtle Island Resort combines tropical comfort with the captivating allure of local culture. And be sure to visit Secret Beach's beachfront bars, Caribbean food, water parks, and more.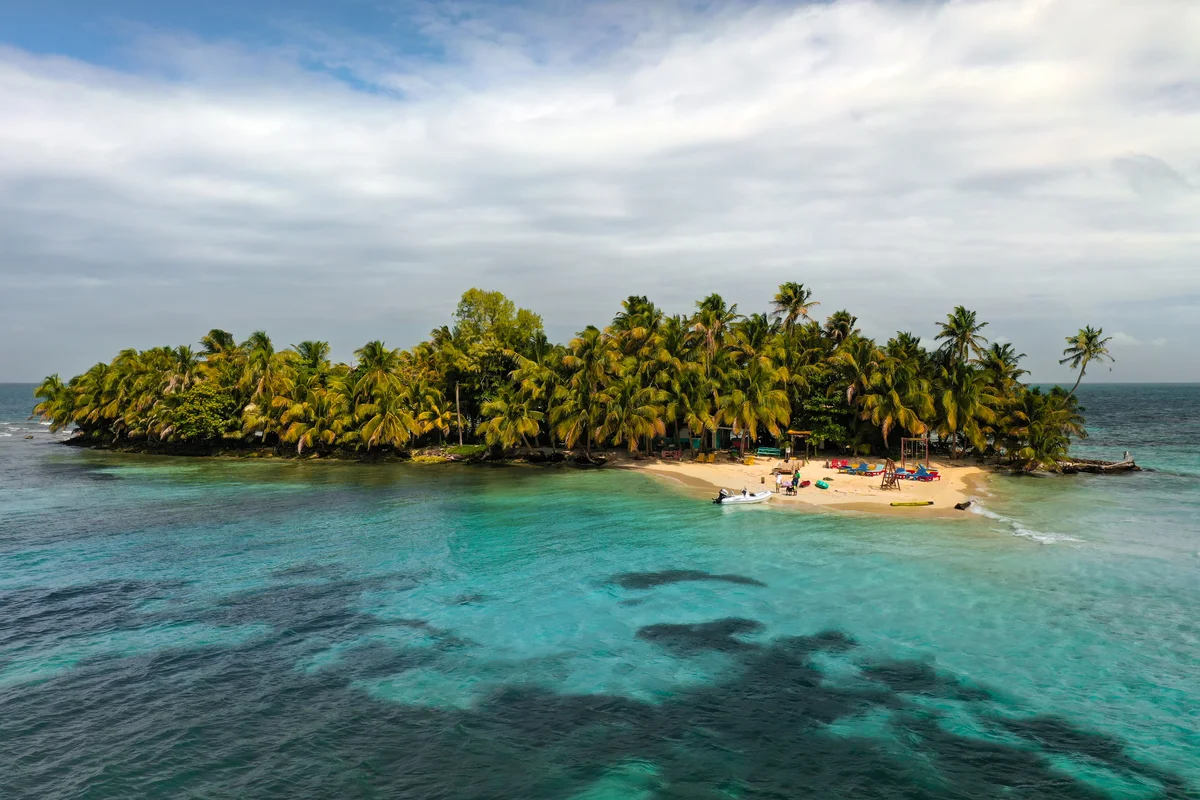 Resort Location: Offshore of Placencia, Belize
Island Size: 2 Acres
Room Types: Rustic Island Cabanas
Number of Rooms: 3 Rooms
Overnight Guest Count: 6 Guests
Vacation Type: Rustic Castaway
Ranguana Caye is your ideal castaway destination, where the pace of life slows down, and everywhere you turn is another Caribbean adventure. This picture-picture 2-acre island resort offers an intimate and rustic escape, featuring three cabanas that fully immerse you in the Belize Barrier Reef. The island's beach bar provides fresh Belizean cuisine and chilled cocktails for your stay. And don't forget to try out the shotski! 
This all-inclusive island getaway includes kayaking, paddle boarding, fishing, and snorkeling the Belize Barrier Reef just off the shoreline. Evenings and nighttime are full of volleyball and football games, karaoke, movie nights, and stargazing. An overnight stay is recommended to get the complete private island experience, but it also makes for a great private island day trip from The Placencia Resort.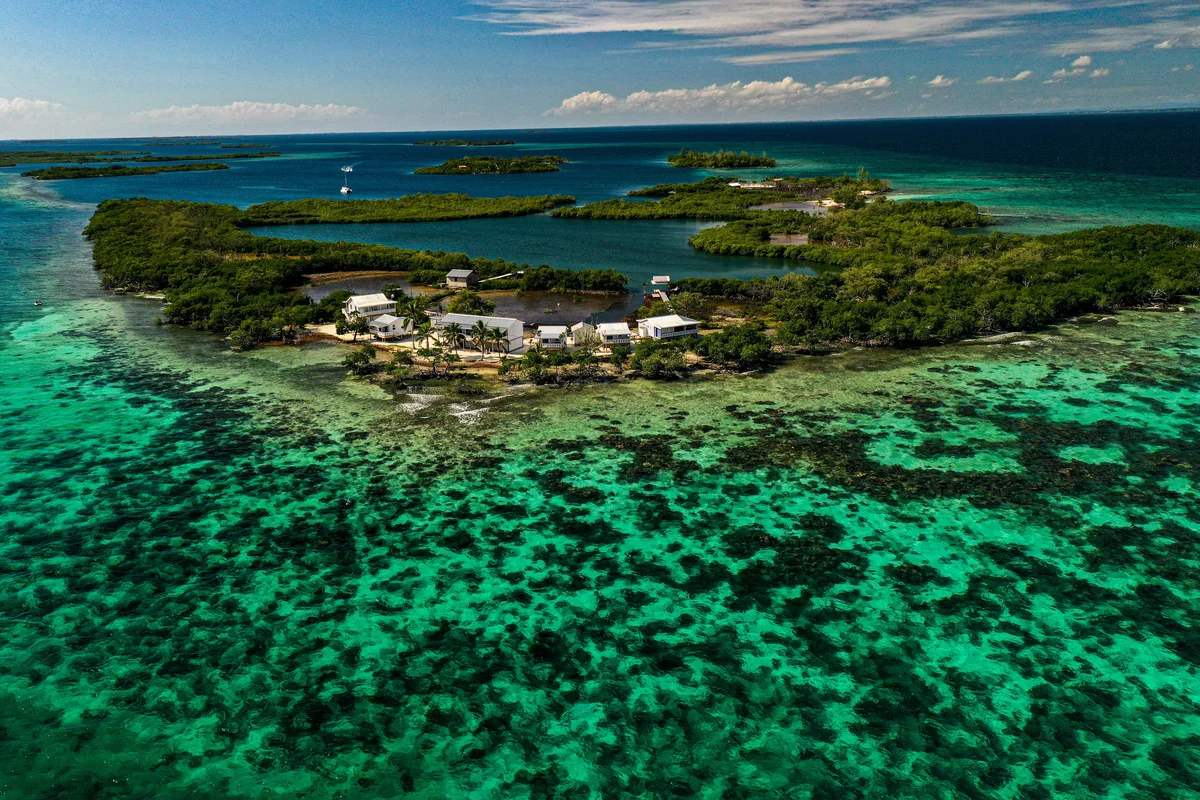 Resort Location: Offshore of Placencia, Belize
Island Size: 7 Acres
Room Types: Island Cabanas
Number of Rooms: 5 Rooms
Overnight Guest Count: 10 Guests
Vacation Type: Fly Fishing Paradise  
In 2023, Blue Horizon Lodge proudly earned the prestigious Orvis-Endorsed International Destination of the Year, solidifying its reputation as Belize's premier fly fishing lodge. Situated in the heart of "Permit Alley," this private island resort offers quick access to the flats, ensuring you can cast your lines within minutes. If your angler's dream involves achieving the coveted Belize Grand Slam—capturing permit, tarpon, and bonefish all in a single day—this is the destination that can make it a reality.
With just five cozy guest cabanas, Blue Horizon Lodge provides an intimate and welcoming atmosphere, perfect for an unforgettable fishing vacation. While it's undoubtedly a paradise for experienced anglers, friendly and knowledgeable guides are equally skilled at helping anglers of all levels, whether they're chasing their first permit or their hundredth. All-inclusive packages streamline your fly fishing adventure, allowing you to maximize your time on the water without worrying about the logistics.
Whether you seek romance, luxury, or world-class fishing, Belize offers a private island resort for every traveler. With pristine beaches, crystal-clear waters, and unforgettable adventures, each resort offers a slice of paradise. Let Muy'Ono Resorts be your guide to crafting the perfect Belize vacation. Which private island will you choose for your next adventure?