Itinerary At Thatch Caye Resort
Picture you and your loved one basking in the sun, feeling the Caribbean breeze, and immersing in the tranquil beauty of Thatch Caye, a private island resort. No need to worry about any planning, as we're here to reveal the ultimate itinerary for a romantic island getaway. In this blog, we'll guide you through a 4-night/5-day escape meticulously crafted for couples seeking an intimate, stress-free vacation. From the moment you arrive until you reluctantly say goodbye, let us take care of every detail, allowing you to fully embrace your Belize vacation filled with love, relaxation, and adventure.
Romantic Island Getaway Itinerary:
DAY 1: Arrive in Paradise – Settling into Your Private Island Retreat
Your journey begins with a warm meet and greet at the International Airport in Belize City. From there, you'll embark on a breathtaking air transfer to Dangriga, followed by a boat transfer that will whisk you away to the enchanting offshore resort. Once you settle into your chosen oasis- an overwater bungalow or an oceanfront cabana– you'll quickly realize that all your worries have washed away.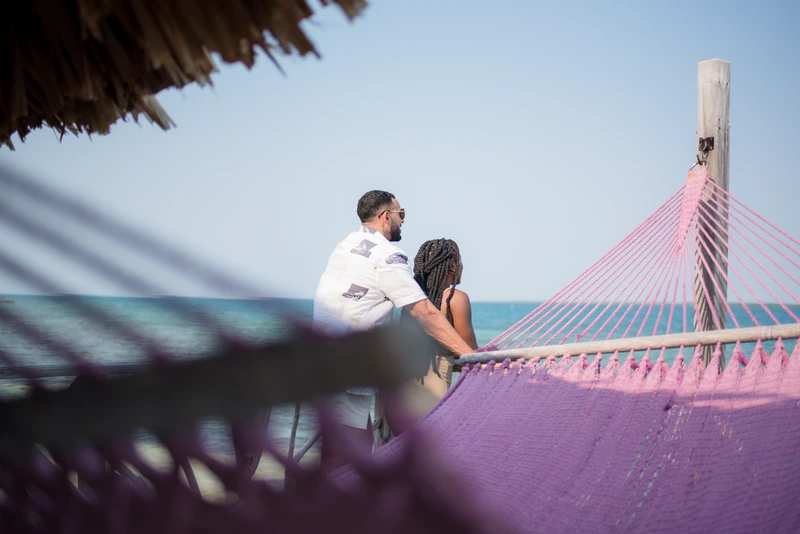 The All Inclusive Island Style package ensures that every moment of your stay is stress-free. Indulge in delectable meals, including a variety of alcoholic and non-alcoholic drinks, while relishing the stunning Caribbean views that surround you. It's easy to make friends during the resort's community dinners and many opportunities to find long-lasting couple friends. As the sun sets on your first day, take a stroll along the pristine beach, hand in hand with your beloved. Let the rhythm of the waves and the gentle ocean breeze set the stage for a truly unforgettable romantic getaway. 
Day 2: Lobster & Conch Hunt – An Underwater Culinary Adventure
Embark on an exhilarating snorkeling excursion to hunt for fresh lobster (June-Feb) or conch (Oct-June) around the Cayes. You and your partner will dive into crystal-clear waters, explore vibrant coral reefs, and spot tropical fish in their natural habitat. Then, with expert guidance, select the perfect catch to grace your dinner table.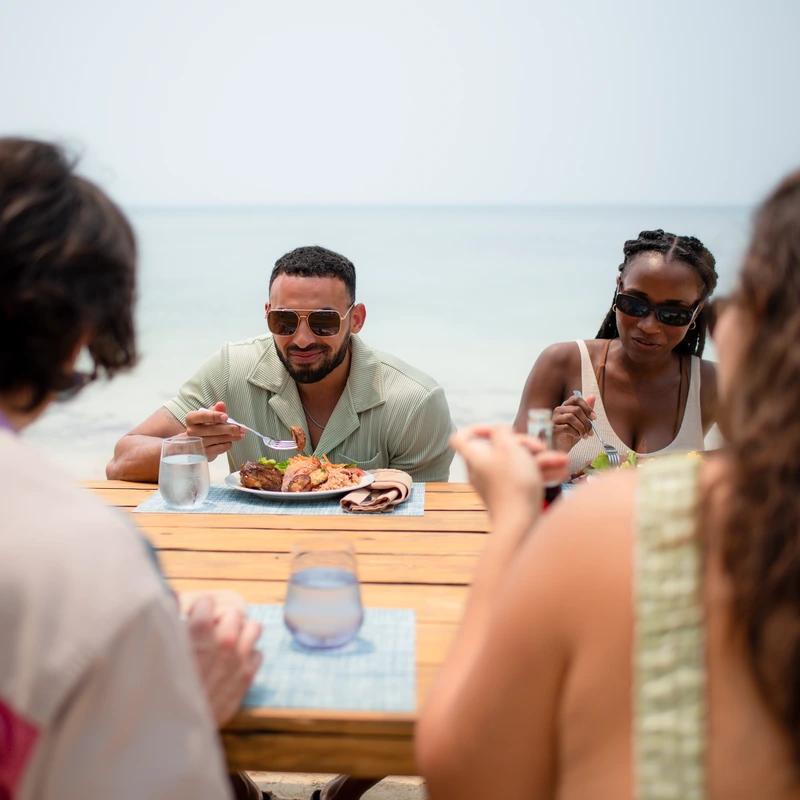 When you return to the island, talented chefs will transform your bounty into a mouthwatering culinary masterpiece. Indulge in the flavors of the sea while savoring the pride of your achievements. This unique experience combines adventure, underwater beauty, and the joy of shared discovery, creating cherished memories on your romantic island getaway.
DAY 3: Island Crawl – Discover the Enchanting Cayes of Belize
Step hand in hand on a floating bar and set sail on an unforgettable island-hopping adventure as you immerse yourselves in the captivating charm of Belize's picturesque Cayes. This tour allows you and your loved one to explore Tobacco Caye, South Water Caye, Twin Caye, and Bird Caye, with a possible stop at the renowned Smithsonian research facility at Carrie Bowe Caye.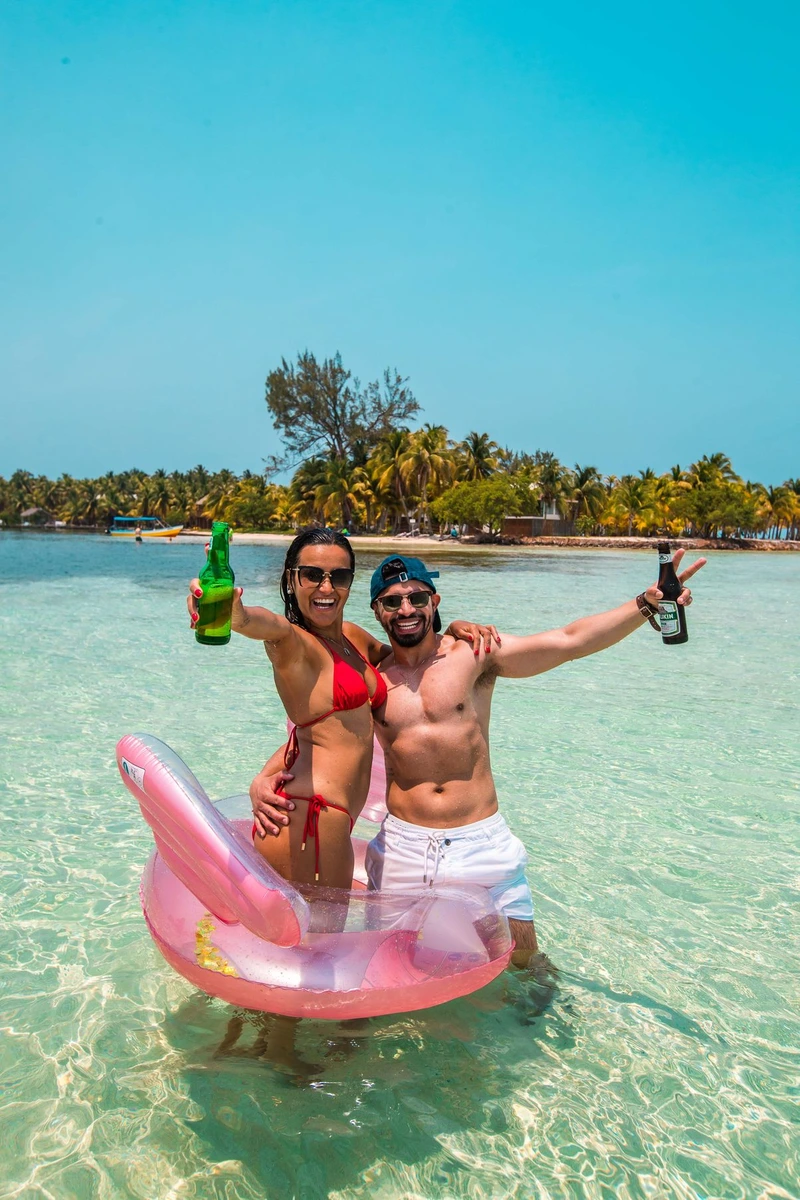 The bartender on board will provide signature cocktails representing each island as you soak up the rich history, culture, and tropical vibes. Be sure to bring some cash to enjoy additional drinks at the island bars, allowing you to indulge in tropical flavors further. While we hope you aren't crawling when you return to Thatch Caye, we can provide wheelbarrow service to an overwater day net, perfect for a recovery nap or indulging in an excellent book.
DAY 4: Private Stargazer Cruise & Candlelight Dinner – A Night of Romantic Delights
Start your day with a fresh Belizean breakfast-in-bed (offered at an additional charge) before exploring the sea with complimentary paddle boards, kayaks, snorkel gear, and fishing rods. Then, as the day ends, enjoy the company of your loved one as you sip on champagne and savor the romantic atmosphere on an hour-long boat ride around the serene waters of the Caye. Your knowledgeable boat captain can share fascinating insights about constellations and star navigation, or you can indulge in the peaceful serenity of silence. Let the tranquility of the surroundings embrace you as you hope to glimpse a shooting star illuminating the sky.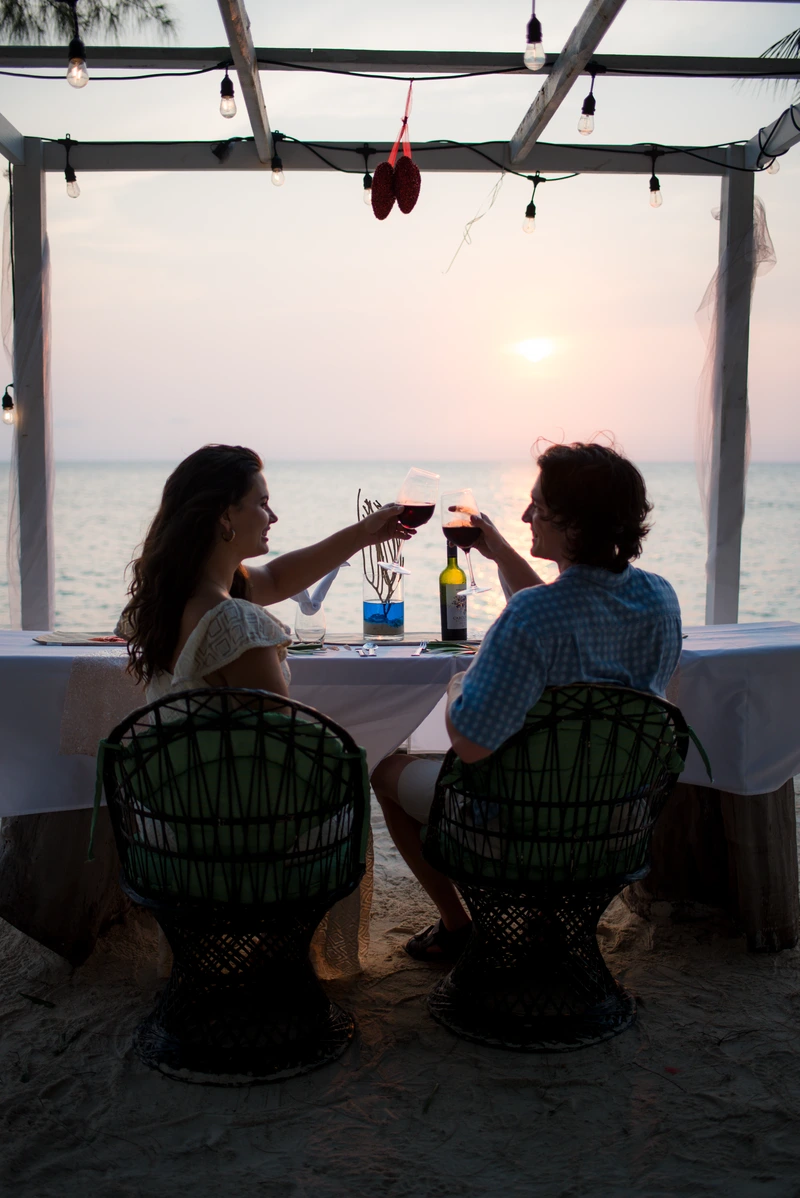 Following the cruise, retreat to the intimate Honeymoon Palapa, an idyllic setting for a private candlelit dinner. Indulge in a farm-to-table culinary feast meticulously prepared by talented chefs, with each dish expertly crafted to tantalize your taste buds. With the soft glow of candlelight creating a romantic ambiance, this evening promises heartfelt conversations and cherished moments. 
DAY 5: A Bittersweet Departure – Cherishing Moments on the Final Day
As your journey at Thatch Caye comes to an end, take a moment to soak in the last glimpses of the Caribbean paradise. After indulging in a final breakfast, bid farewell to the island's warm hospitality and breathtaking beauty. However, your adventure isn't quite over yet. Our team will assist you with a seamless air transfer from the island to the International Airport in Belize City. Reflect on the cherished memories you've made together, from the romantic sunsets to the underwater explorations and the tranquil stargazing moments.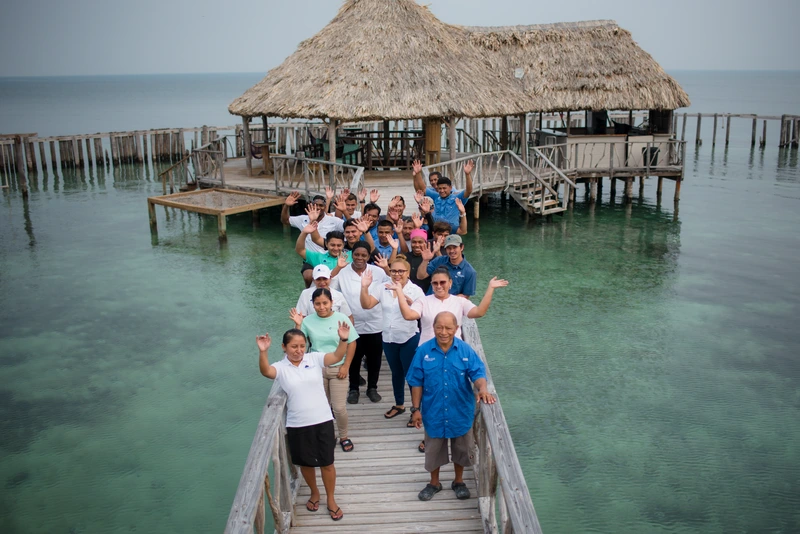 Now that you've discovered the perfect romantic island getaway itinerary at Thatch Caye, it's time to turn your dreams into reality. With Muy'Ono Resorts at your side, you can rest assured that every aspect of your stay will be meticulously planned and flawlessly executed. Visit the Thatch Caye website or book your slice of paradise today and prepare to embark on an adventure that will forever hold a special place in your hearts.