What to Expect at Slickrock
Unplug, unwind, and uncover a world of adventure at Muy'Ono Resorts' newest island eco-lodge in Belize. Slickrock Belize Adventures offers an all-inclusive adventure vacation that promises an escape like no other. Join us as we explore what sets Slickrock apart from other Belize adventure resorts and offer a glimpse into the excitement that awaits every guest.
What makes Slickrock different from other adventure resorts? 
Slickrock Belize Adventures is located on Long Caye at Glover's Reef Atoll and offers an 8-night off-grid vacation with over ten guided watersport activities. This eco-lodge provides the ultimate adventure travel, from kayaking and snorkeling to fly fishing and surfing the best break in the country. 
With endless activities at your fingertips, you can rest assured you'll experience the best Belize adventures. For your convenience and with the eco-lodge's primitive location, the All Inclusive Adventure Vacation Package is included with every stay.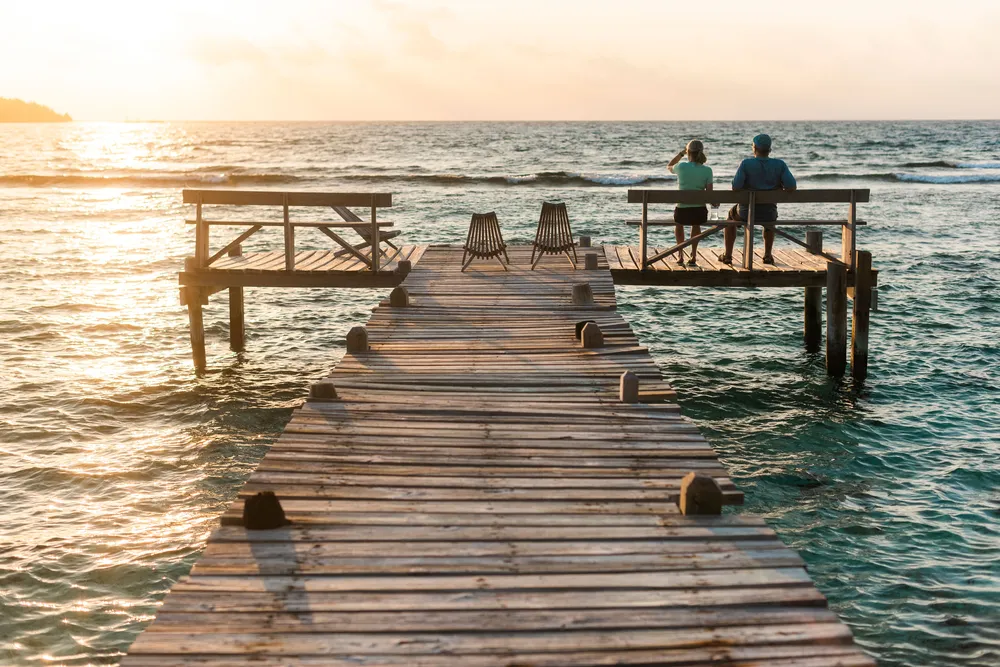 What are the facilities like at Slickrock Belize Adventures? 
Guests trade typical resort amenities for a 100% sustainable eco-lodge experience, operating entirely on solar and wind power. With a prime location on Glover's Reef Atoll, Slickrock takes pride in being as low-impact as possible. The lodge provides guests with a digital detox getaway and the ability to experience Belize as nature intended. 
Beachfront cabanas won't have electricity or air-conditioning, but they come with private patios and unforgettable Caribbean views. The open-air Dining Hall isn't your typical restaurant, but it's the perfect place to enjoy fresh buffet-style cuisine to fuel up for your next adventure. Your bathrooms will be a walk from your cabana, but the vast array of watersport equipment and instruction will keep you busy all day; you won't even notice.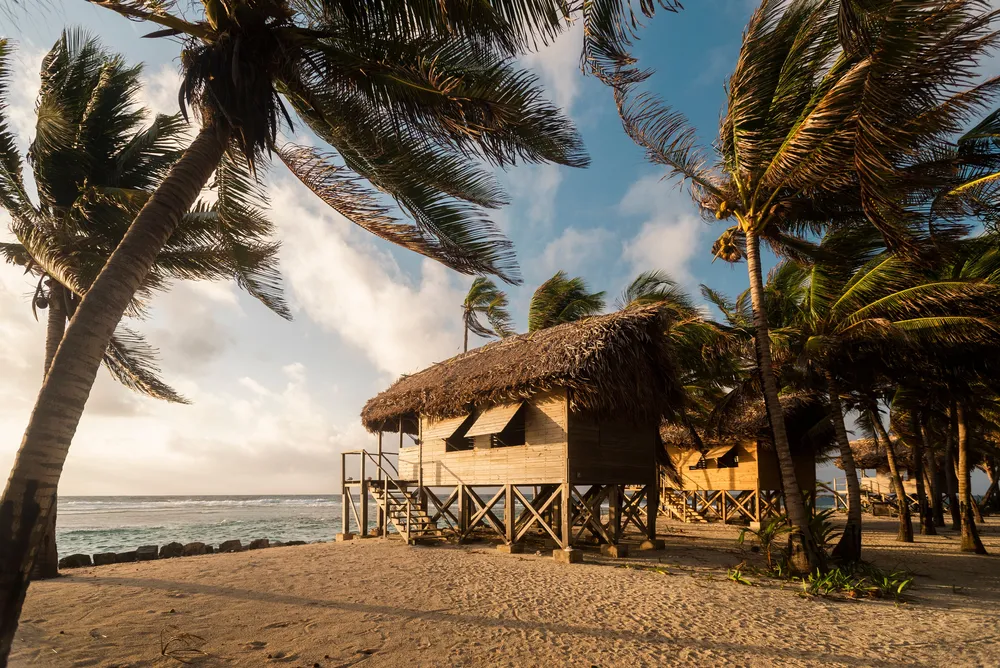 What does the All Inclusive Adventure Vacation Package include?
Sports instruction is offered daily, but once you complete an orientation, you can enjoy that sport with a buddy. Additionally, fresh breakfast, lunch, dinner, beer, juice, and soda are included to energize you for activity-filled days. You can learn more about what's included in The Package here. 
What's Included in the Adventure Vacation Package:
Double occupancy lodging: 1 night on the mainland, 7 nights on the island

Round trip domestic flights between Belize City & Dangriga Airport

Three buffet-style meals per day, beer, soda, juice, & water

Complete access to watersports

Daily guided activities & instruction in all sports

Round trip boat transport to & from the island

Park entrance fees and fishing licenses

Sales & hotel taxes

Resort t-shirt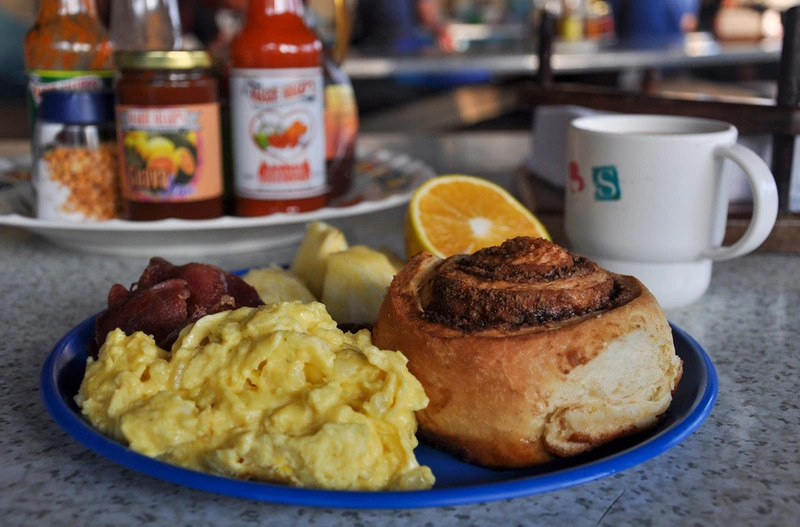 What watersports are included in the adventure vacation? 
Most days, guided activities are led at 10am and 2pm but are subject to the weather forecast. Below are the included and additional activities you can expect on your vacation at Slickrock Belize Adventures.
Surfing

Paddleboarding

Windsurfing

Kayaking (Sea Kayaking, Kayak Surfing, Kayak Fishing, Kayak Rolling)

Snorkeling & Free Diving (bring your own gear)

Fishing (bring your own gear)
SCUBA & SCUBA Certification.
While offered at an additional price, the SCUBA Package is highly recommended if you are an avid diver. Glover's Reef Atoll provides some of the best SCUBA diving in Belize, and there's no better place to stay than minutes from the top dive sites. Slickrock Belize Adventures location provides optimal diving time for your SCUBA vacation.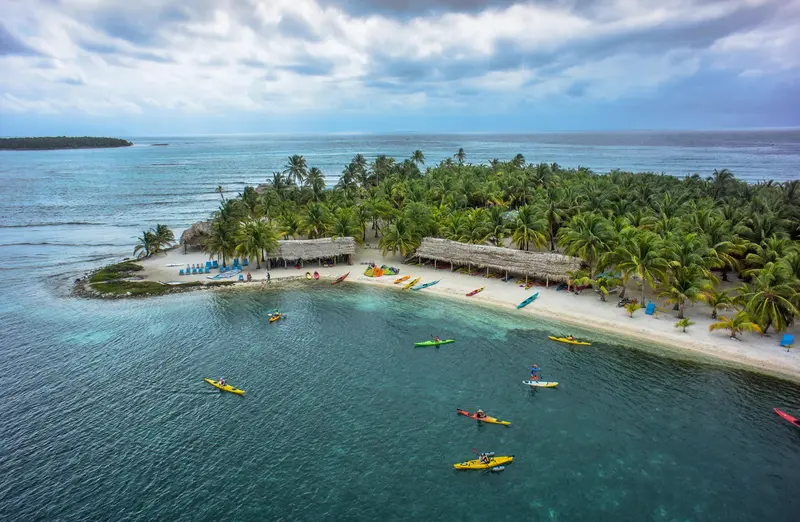 What does a typical day look like at Slickrock Belize Adventures?
While we can't guarantee you will have a signal, we can ensure your days will be full of Belize adventure, fresh island cuisine, and incredible experiences you won't even have time to check your phone. Following is a condensed version of what your 8-night all-inclusive adventure vacation will look like at the ultimate adventure eco-lodge. You can check out a full itinerary for Slickrock Belize Adventures here. 
Arrive in Belize - Arrive in Belize City & catch a connecting flight to Dangriga with Maya Island Air.

Initial Trip Meeting - Meet your guide at the

partnered mainland resort

by 5pm for a 6:30 orientation, dinner, and lodging.

Overnight in Dangriga - It is required that all guests spend the first night on the mainland in Dangriga.
Boat Ride to Island - After breakfast at the hotel, you will take about a 1.5-hour boat ride to Long Caye.

Move into Cabanas - Take a tour of the island facilities before settling into your beachfront cabanas and enjoying your first lunch at the open-air Dining Hall.

Snorkel Orientations - The first sport orientation is snorkeling, where you will explore your first snorkel spot at Glover's Reef Atoll.
Sea Kayak Orientation - Attend the sea kayaking orientation this morning, followed by a practice session in the water (the last mandatory activity).

First Kayak/Snorkel Expedition or Windsurfing Orientation - After lunch, take the first tour to a nearby patch reef to snorkel from kayaks or take the windsurfing orientation.

Kayak Fishing & SCUBA Diving - Fishing kayaks are available for fishing inside the atoll. Certified divers and those seeking SCUBA certification can begin diving this afternoon.
Paddle Around the Island - After breakfast, take a morning paddle around the island, outside the atoll.

Kayak Snorkeling - If enough guests want to go kayak snorkeling, a guide will take a group out.

Surf Kayak Orientation - Windsurfing orientation can be offered again, and surf kayaking instruction will be provided.
Paddle to the Next Island for Snorkeling or Fishing - This 5-mile round trip paddle offers an excellent patch reef for snorkeling and large bonefishing flats.

Stay on Island - If you don't choose to paddle, stay on the island and relax in a hammock or enjoy one of the sports you have already learned with a buddy.
Kayak Rolling Lessons & Snorkel Around the Island - Begin with a kayak rolling lesson followed by a long snorkel around the island, spending a lot of time at Long Caye Wall, a world-famous dive site.

Paddleboard Orientation - Practice your windsurfing or kayak surfing, or learn a new sport: paddleboarding.
Surfing - Windsurfing, paddleboarding, kayak surfing, and other orientations are given to guests who want them.

Snorkeling - Paddle a half-mile to snorkel at "The Aquarium," one of our favorite snorkel sites.

Low Tide Walk - Low tide pools allow you to find a variety of starfish, sea urchins, and octopus.
Final Day on Island - Enjoy a fantastic feast on the last full day.

Do Everything or Nothing - Enjoy your favorite activities one last time, or relax and take in the final views.
Boat Ride to Dangriga - Enjoy the final glimpse of the eco-lodge before a boat ride back to the mainland and breakfast.

Fly to Belize City - Catch your flight back to Belize City for your international flight back home.
Slickrock Belize Adventures is more than a typical vacation— it's a gateway to the best island excursions in the Caribbean. From the eco-lodge's sustainable adventure travel approach to the breathtaking views of Glover's Reef Atoll, this is a glamping escape like no other. Thrill-seekers, honeymooners, and active families alike will enjoy this Belize adventure package. Visit the Slickrock Belize Adventures website and FAQ page to learn more. Book the island getaway of a lifetime!