A Perfect Blend of Romance & Adventure
Embark on a journey of love and adventure amidst Belize's finest honeymoon resorts. The Muy'Ono Resort Collection provides a range of unforgettable experiences for couples seeking a romantic Caribbean getaway. Whether you envision a blissful beachfront escape, an exclusive island retreat, or an immersive jungle oasis, the portfolio's diverse offerings promise an extraordinary chapter in your love story. To aid in crafting your perfect vacation, here's a curated selection of the top 5 honeymoon resorts in Belize.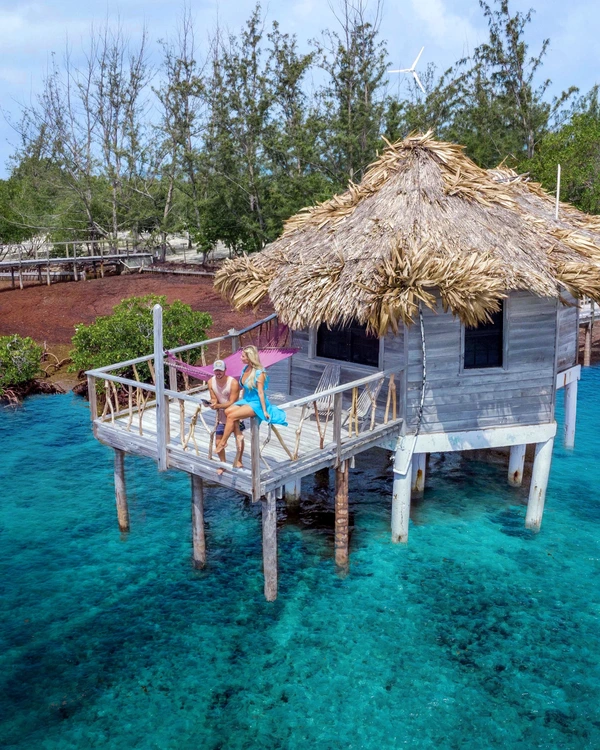 Your dream island honeymoon becomes a reality at Thatch Caye Resort. Imagine you and your loved one in an overwater bungalow perched above the tranquil Caribbean Sea. This private island paradise offers waterfront and overwater villas with private porches, swaying hammocks, and a gentle ocean breeze. Wake up to breakfast in bed, accompanied by an optional bubbly bar to celebrate your love in style. Thatch Caye offers farm-to-table island-style dining, crafting each meal with the freshest local ingredients.
Spend your days enjoying complimentary paddle boarding, kayaking, and sunbathing on the pristine beach with refreshing cocktails. As night falls, embark on a private stargazing cruise, embracing the wonders of the celestial sky while wrapped in each other's arms. Your boat captain can tell you about constellations and star navigation or relish the peaceful serenity. Enhance your honeymoon with optional adventures such as snorkeling to explore the vibrant underwater world, thrilling jungle excursions in Belize's lush rainforests, or rejuvenating spa experiences to leave you refreshed and renewed.
Thatch Caye's Happily Ever After Package includes:
Accommodations

Floral turndown service upon arrival

Premium champagne upon arrival

Romantic breakfast in bed with (optional) bubbly bar

One private romantic candlelit dinner in Honeymoon Palapa

Honeymoon siesta service with (optional) wind-down cocktail

Couple's Belizean gift basket

Private stargazer's cruise
2. Sweet Songs Jungle Lodge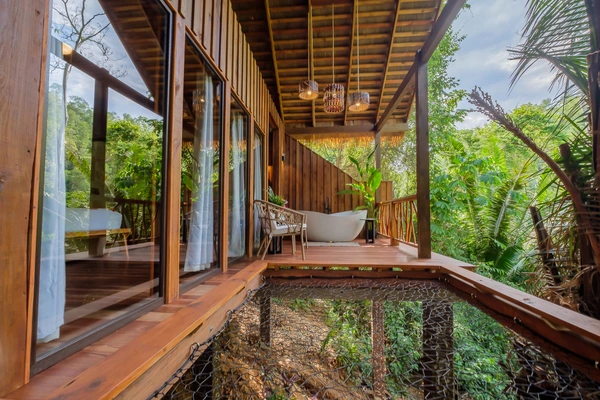 Nestled in San Ignacio, Belize, Sweet Songs Jungle Lodge offers an active rainforest setting for your tropical honeymoon. Immerse yourself in nature with a stay in one of the lodge's romantic treehouses, adorned with unique deck furniture, such as hanging daybeds or woven net daybeds, providing a perfect spot to unwind and listen to the symphony of local birds and howler monkeys. These elevated sanctuaries boast showers with breathtaking floor-to-ceiling jungle views and an outdoor tub to surround you with the serenity of the natural world.
Explore the captivating beauty of Belize on a private horseback ride or embark on a tour of the ancient Mayan ruins of Xunantunich. When it's time to unwind, find serenity by the infinity pool, where you can lose yourself in a good book or savor the tranquility of the surroundings. The lodge's staff will create a beautiful private candlelit dinner amidst the enchanting jungle ambiance. As the evening sets in, gather around the bonfire on the river bank beach, where you can share stories, toast marshmallows, and revel in the starry night sky.
Sweet Songs' Honeymoon Package includes:
Accommodations

Private horseback ride or Xunantunich tour

Premium champagne in room

One private romantic candlelit dinner

Floral turndown service upon arrival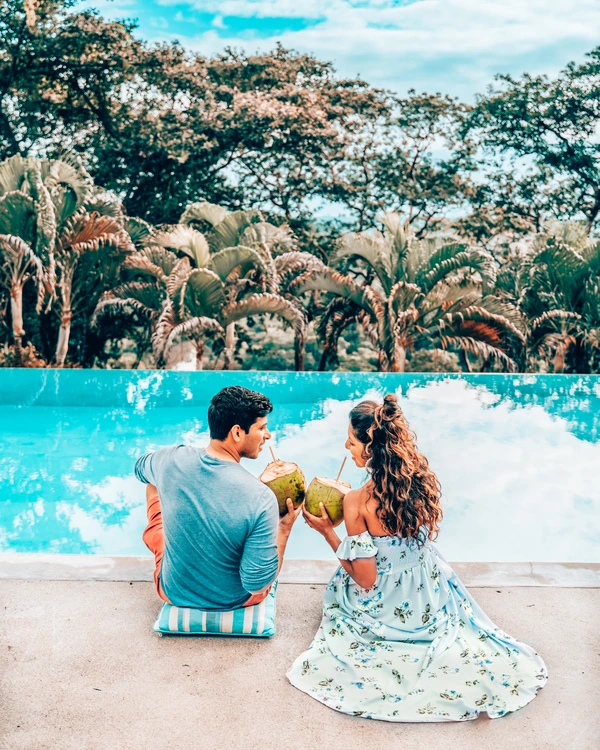 Copal Tree Lodge invites you to experience the epitome of luxury amidst the breathtaking treetop canopies of Belize. The Signature Canopy Suites offer a secluded sanctuary, complete with a private outdoor tub and a semi-private infinity-edge pool, allowing you to immerse yourselves in the tranquility of nature. Indulge in the ultimate farm-to-table experience as you delight in the delectable meals sourced directly from the on-site sustainable farm, creating an unforgettable culinary journey. You can even dive deeper into the country's cuisine with the opportunity to explore the art of chocolate making, coffee cupping, and cocktail mixology.
This jungle lodge allows you to experience the best of both worlds with jungle and Caribbean adventures like snorkeling with the chef and watching him cook lunch on your boat. Wind down for the evening as you watch a romantic sunset along the river on the sunset cruise before a candlelit dinner. For the ultimate Belize honeymoon experience, consider the Rock to Reef Package, combining a stay at Copal Tree Lodge and Thatch Caye Resort, where you can discover the magic of the jungle and the serenity of a private island.
Copal Tree's Pure Passion Package includes:
Accommodations

Premium champagne upon arrival

Floral turndown service upon arrival

One romantic candlelit dinner

Sunset cruise for two

Experience Copal Tree Farms: enjoy our Bean to Bar Chocolate Making, Coffee Cupping, and Cocktail Mixology Class for two

Snorkel with the Chef for two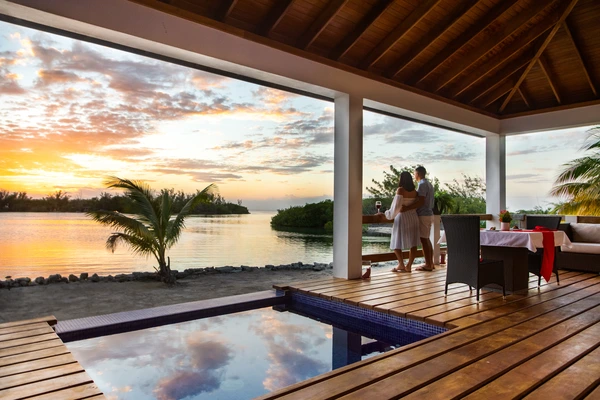 Turtle Island Resort offers an island vacation like no other. Stay in modern villas, each equipped with a personal plunge pool, offering breathtaking Caribbean vistas and a private oasis for you and your loved one to unwind. Adventure sets in during a private snorkeling trip to Hol Chan and Shark Ray Alley, where you can swim alongside mesmerizing marine creatures and explore the vibrant underwater world. End the day with a private candlelit dinner, accompanied by the gentle sound of the waves and the panoramic views of the Caribbean sunset. 
Whether it's a relaxing couple's massage, a romantic sunset cruise, or a personalized excursion to explore the stunning natural beauty of Belize, Turtle Island Resort is dedicated to ensuring your honeymoon is filled with love, adventure, and lifelong memories. While the resort offers a remote sanctuary, take advantage of the opportunity to venture into the nearby town of San Pedro on Ambergris Caye. Discover the vibrant local culture, sample delicious Belizean cuisine, and immerse yourselves in the town's lively atmosphere. From quaint shops to lively bars and restaurants, San Pedro offers a charming and authentic experience that complements the serenity of Turtle Island Resort.
Turtle Island's Honeymoon Package includes:
Accommodations

Private snorkel trip to Hol Chan & Shark Ray Alley

Premium champagne in room

One private romantic candlelit dinner

Floral turndown service upon arrival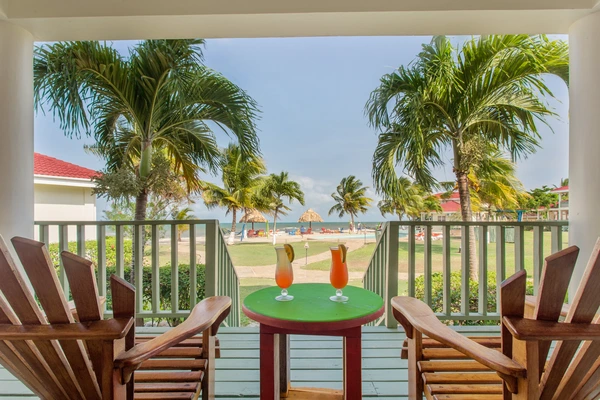 Escape to the laid-back paradise of Hopkins Bay Resort, where sandy beaches and swaying palm trees beckon you to unwind and reconnect. Nestled along the stunning coastline of Belize, this tropical retreat offers charming beach houses boasting ocean views, complete with beachfront pools where you can bask in the warm Caribbean sun. Embrace the local flavors at the poolside restaurant, where you can indulge in delicious cuisine infused with Belizean influences, adding a touch of authenticity to your unforgettable getaway. 
Indulge in a rejuvenating couple's massage, melting away any worries, before embarking on unforgettable excursions to must-see attractions like the ancient ruins of Xunantunich and the mesmerizing Blue Hole. This adventure-filled package allows you to explore the vibrant underwater world with a half-day snorkeling adventure at the Barrier Reef, marveling at the kaleidoscope of coral and marine life beneath the crystal-clear waters. For a truly romantic experience, savor a private dinner on the beach with the flickering candlelight and the sound of the waves creating the ambiance. While Hopkins Bay Resort may attract more families, it still offers a wonderful opportunity to explore the charming town of Hopkins, known for its vibrant local culture, friendly atmosphere, and thrilling adventures. 
Hopkins Bay's Honeymoon Package includes:
Accommodations

Floral turndown service 

Chilled champagne

Couple's massage

Xunantunich and Blue Hole

Half-day Barrier Reef snorkel

Private dinner on the beach