Make A Difference in Belize With Muy'Ono Resorts
Belize is a destination with more than picturesque beaches and lively rainforests–the warmth of the people and the rich culture of its communities make it truly unforgettable. At Muy'Ono Resorts, we believe in providing vacations that give back to the land and its people that have given us so much. With a commitment to making a meaningful difference in the lives of those who call Belize home, our guests help ensure its natural beauty and vibrant traditions are sustained for generations to come. In this blog, we'll introduce you to our Nightly Donation program and show you how easy it is to travel better on your next vacation.
What is the Nightly Donation program?
Muy'Ono Resorts aim to provide a vacation that not only exceeds expectations but also gives back to local Belize communities. That's why we created the Nightly Donation program, which ensures that a portion of every stay, each night, automatically goes towards supporting a local non-profit organization in Belize. Each resort donates up to $100 BZD per night of every reservation at the property. Since the program began in 2018, we have donated over $722,000 BZD (dated June 2023).
Guests play a crucial role in our philanthropy initiatives. Simply by choosing to stay with us, we can contribute to the growth of our communities. During checkout, we encourage guests to match the donation to help further efforts to sustain the Belize community. We appreciate the support of our guests, whose generosity makes a powerful difference. With this program, travelers can be confident that their stay is leaving a lasting influence on the lives of the people in the surrounding area.
Where is the money donated?
Each Muy'Ono Resort selects a charity partner, whether a community program, school, or non-profit organization, close to the hearts of team members or their villages. We recognize that our team is an integral part of the local communities and allow them to suggest charities that align with their values and personal experiences. This establishes a deeper connection with our partner organizations and enables us to have a more meaningful impact on the lives of the people we serve. In addition, by selecting charities close to our hearts, we can approach our philanthropic efforts with passion and authenticity, supporting the causes that matter most to our staff and communities.
2023 Monthly Recipients
We invite you to look at some of the charities we'll support each month in 2023. Through the Nightly Donation program and the kindness of our guests, we're excited to contribute to these incredible organizations and do our part in making a positive difference.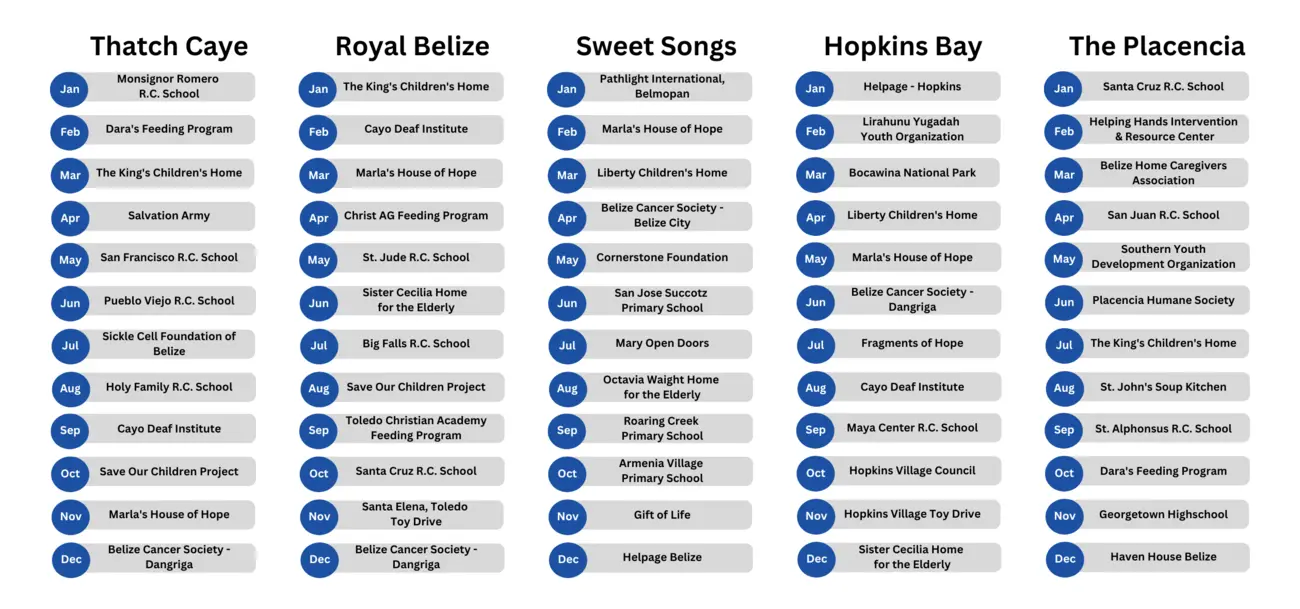 Muy'Ono Resorts' commitment to philanthropy extends beyond our nightly donations program. Whether planning a trip to Belize or organizing an event for your non-profit, there are other ways to get involved and make a difference in the local community.
Pack for a Purpose
Muy'Ono Resorts are also proud members of Pack for a Purpose, an initiative that allows travelers to make a lasting difference in the lives of local children and families. By saving just a bit of space in your suitcase to bring supplies, you can contribute to improving education, health, and economic opportunities in the communities where we operate. Each resort supports a project that needs specific items, which can be found on the website here.
Through this program, past guests have generously donated hundreds of pounds of supplies to aid local schools, clinics, and other organizations in Belize. We are constantly inspired by the compassion of our guests and thankful for the contributions and extra space they leave for supplies our partners so desperately need. We invite you to join us in this meaningful initiative and make a difference in the lives of those in need.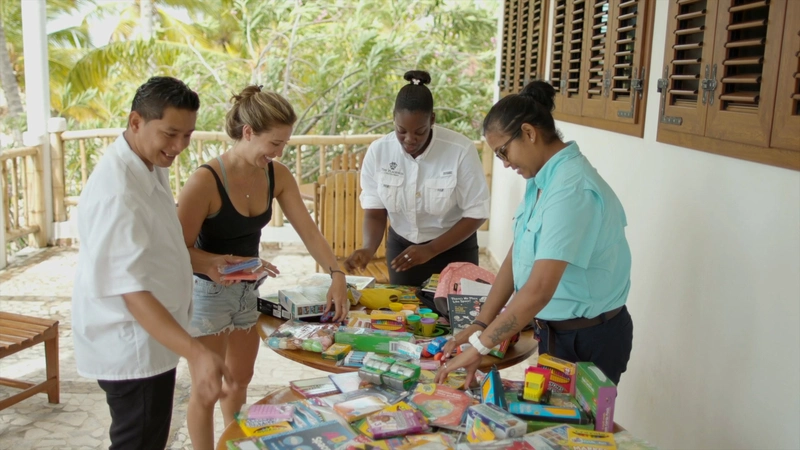 Charity Auctions
Muy'Ono Resorts also helps non-profit organizations raise funds through unique charity auction experience packages that align with our Travel Better philosophy. Our sister company, Travel Better for Charity, ensures auction winners have a seamless and worry-free experience with sustainable packages designed to showcase local culture and provide true adventure. With a range of resort and combination offerings, your non-profit can tailor a profitable venture for your event. Our risk-free offerings and expert team make the entire process hassle-free, allowing you to focus on raising the funds needed to make an impact. Listed below are the vacation packages and resort offerings available.
Muy'Ono Resorts offer more than just a getaway–they are a vacation that gives back. Our Nightly Donation program, Pack for a Purpose initiative, and Charity Auction packages aim to help travelers give back and make a meaningful difference in the lives of those who call Belize home. We invite you to join us in our mission to Travel Better and discover the beauty of Belize while positively impacting the world. For more information on how to get involved and learn more about our philanthropic efforts, watch our Youtube video here.