With three different treetop villas nestled within the lush landscapes of Sweet Songs Jungle Lodge, including the brand-new Signature Treehouses, selecting the perfect Belize treehouse can be an exciting yet challenging decision. While there is no wrong choice, as each treehouse promises an immersive experience and impeccable hospitality, you can follow a few simple steps to ease the selection process and ensure a relaxing and stress-free vacation. After all, this is your escape into the captivating beauty of Belize's jungle, and it should be tailored to your preferences and desires.
1. What's your budget?
When choosing the perfect treehouse at Sweet Songs Jungle Lodge in Belize, consider your budget and interest in an all-inclusive experience. Since the treehouse units do not have kitchen facilities, opting for the All Inclusive Package ensures added convenience and relaxation. While the all-inclusive rates may be higher, the indulgence of breakfast, lunch, a three-course dinner, and drinks makes it a worthwhile investment.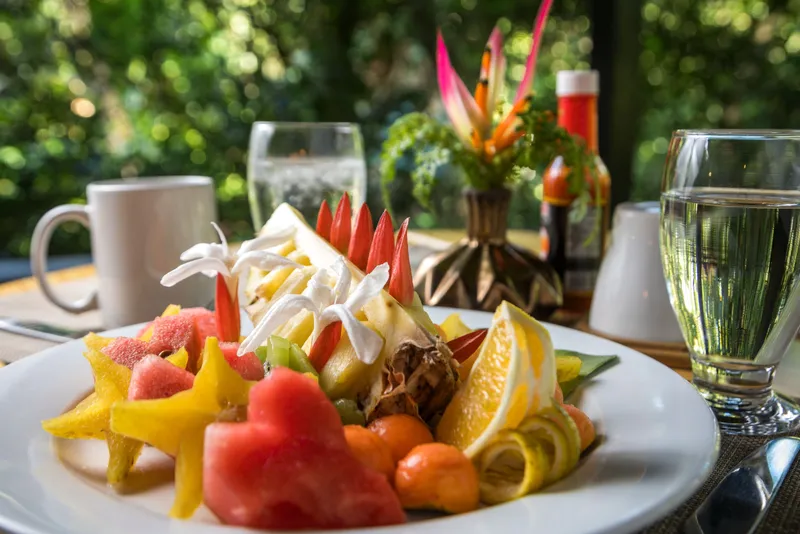 It's important to note that prices will vary based on factors such as season and holidays. However, you can choose the Premier Treehouses or the newest Signature Treehouses for a luxurious retreat and the cozy Treehouse for a budget-friendly escape. Rest assured that your visit will be memorable and stress-free, with delectable meals and an enchanting jungle ambiance no matter where you stay.
2. Who is staying with you?
Each treehouse accommodates a maximum of two guests, ensuring an intimate and tranquil escape. However, both the Premier Treehouse and the Signature Treehouse are exclusively for adults. If you are traveling with a child, the Treehouse is suitable for accommodating your younger travelers. If you plan on bringing more than two people, there are plenty more room options besides the treehouses, perfect for the entire family.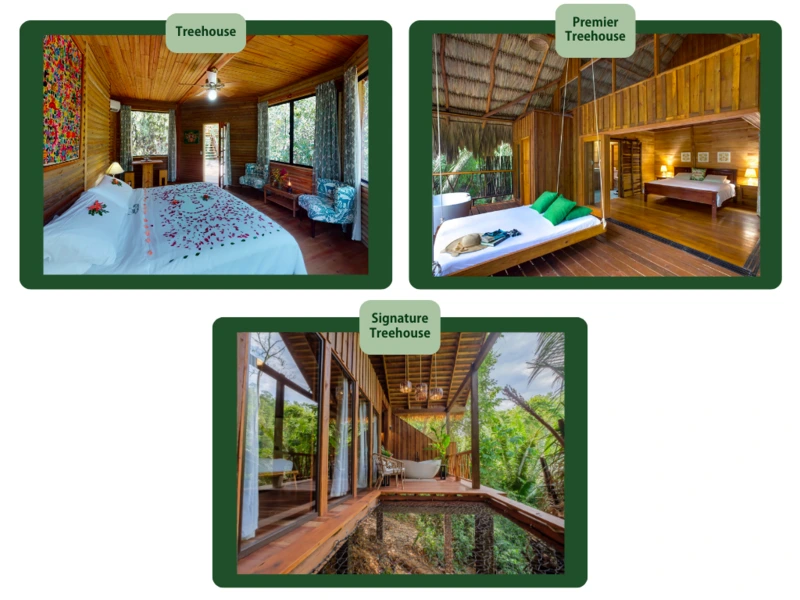 3. Do you have a location preference?
We understand the importance of finding the perfect location for your Belize treehouse experience. Each option offers unique charm, proximity to specific resort amenities, and stunning views, ensuring a memorable stay. The Treehouse, conveniently situated by the infinity-edge pool, provides a tranquil oasis with a spacious and enclosed private garden. Here, you can unwind and immerse yourself in the serene garden ecosystem, enjoying secluded relaxation.
For those seeking a captivating view of the jungle and river, the Signature and Premier Treehouses are located down the stairs near the Treehouse Bar, leading to the resort's river-side beach. The Signature Treehouses are just a short walk down the stairs and to the left, while the Premier Treehouses are a bit further down and on the right, offering easy access to activities like river floating. Whichever option you choose, you'll be treated to breathtaking scenery that showcases the natural beauty of the surroundings.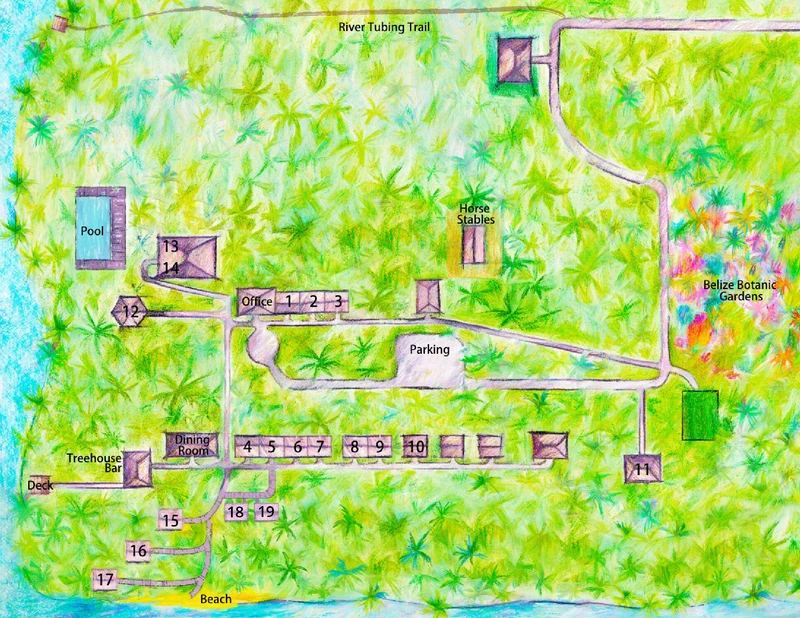 4. What amenities are important to you?
It's essential to prioritize the treehouse amenities that will enhance your stay. Each treehouse offers a cozy king bed, creating a romantic atmosphere for two guests. While secluded in their unique locations, all treehouses boast a private entrance and stairs, ensuring privacy and exclusivity. Inside, you'll find hardwood floors, complimentary toiletries, soft towels, and high-quality linens, all designed to provide a comfortable and refreshing experience. In addition, the treehouses are equipped with air-conditioning, keeping you cool in the tropical jungle climate.
The Treehouse, in addition to the cozy amenities, features a wardrobe and a private second-level treetop patio with a tree net daybed. Please note that this is the only treehouse that does not have Wi-Fi, allowing guests to truly disconnect and immerse themselves in the beauty of Belize. Wireless internet service is available in the Treehouse Bar & Restaurant, Front Desk & Office, Premier Treehouses, and Signature Treehouses.
For a more elevated and luxurious experience, the Premier and Signature Treehouses are ideal choices. Aside from their stunning jungle or river views, these treehouses offer thoughtfully designed decks with an outdoor bathtub and unique furniture. The new Signature Treehouse features a woven daybed integrated into the deck, while the Premier Treehouse offers a suspended outdoor daybed. Both treehouses boast a shower with floor-to-ceiling jungle views, with the Signature Treehouse being to first to introduce an open-air bathroom, fully immersing you in the natural beauty surrounding you.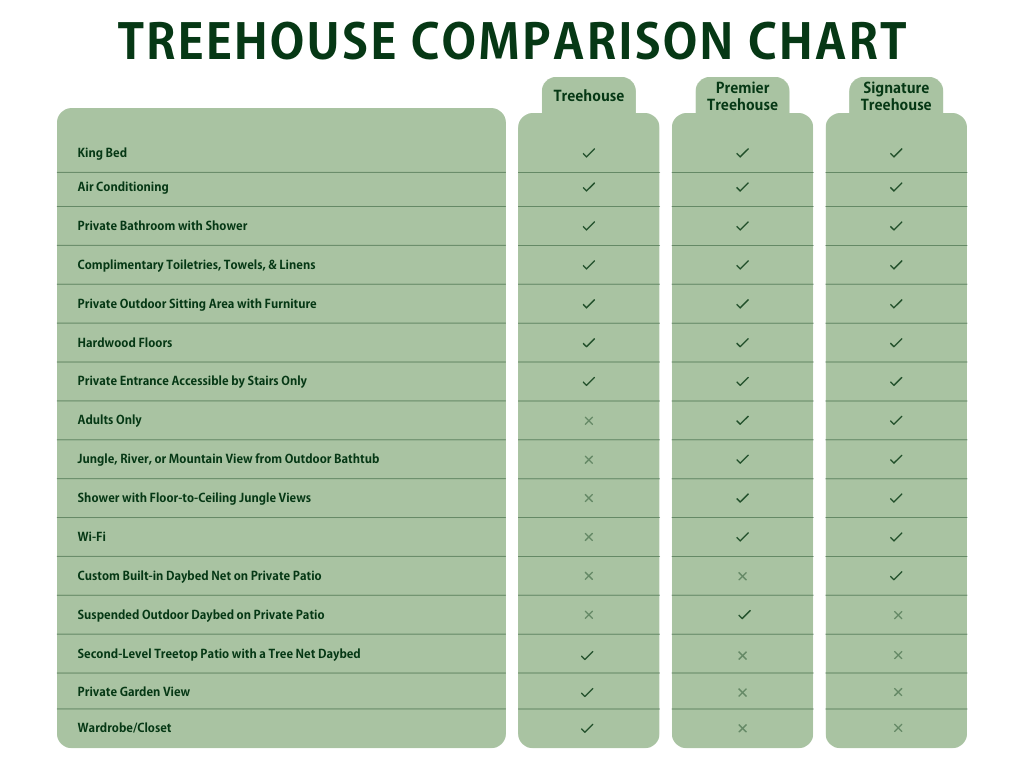 Ready to embark on your Belize treehouse vacation? With your ideal retreat in mind, plan your unforgettable stay at Sweet Songs Jungle Lodge and immerse yourself in the captivating wonders of this tropical paradise.
For further information on each Belize treehouse, including a photo gallery, virtual tour, and booking details, click on the following links: Treehouse, Premier Treehouses, and Signature Treehouses.